Welcome to GCC!
Did you know that driving alone to the area is not your only option and maybe not even be the most beneficial one? Alternative modes of transportation can decrease your stress level, help the environment, and also save you money.
Go Glendale Commuter Club
Go Glendale's Commuter Club offers a customized commuting experience to employees commuting into the Glendale area.
Once you're signed up, you can pick and choose which of the following benefits you would like:
Personalized trip planning assistance
Ridematching assistance
Metrolink Free Day Pass
Bicycle Starter Kit
And more!
Click on the bus below to sign up today!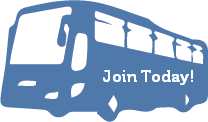 Ridesharing
Carpool:
GCC offers $10/person and the ability to park in any parking lot on campus for people who are in a 3+ person carpool
Vanpool serving GCC:
The Santa Clarita/Palmdale Vanpool
Current fees are $5 per day round trip from Santa Clarita and $10 per day round-trip from Palmdale.
For more information about the Santa Clarita/Palmdale vanpool, contact Merrilee Ahaus at mahaus@glendale.edu, Ext. 5112.
To inquire about the GCC carpool, train, and bus programs, please contact an employee transportation coordinator at parking@glendale.edu or 818-240-1000 ext 5205.
Train & Bus
GCC offers reimbursements for Metrolink and bus riders. GCC covers one-half of the monthly cost up to $130/month for every month you work.
The Glendale Train Station is located at
400 W Cerritos Ave, Glendale, CA, 91204
Three train lines served by Amtrak and Metrolink stop at the station.
The following lines are within a short walk (5 to 15 minutes) from GCC:
Beeline 3, 31, 32, 7 – $1.00/ride
Metro 90, 91, 685 – $1.75/ride
Transit Map
Go Glendale offers personalized transit route maps for all employees commuting into the Glendale area. Click the link below to access your worksite's personalized transit map.
Bike & Walk
GCC will give you $25 per month that you work if you bicycle or walk to work.
To help you start:
Ride your bicycle for 90 days and receive a $30 gift card.
Yes, Your bicycle has a place on transit!
Buses have bike racks and trains have bike-friendly cars. Check below for the time it would take to bike from GCC to the following transit stops:
Metro 90, 91, 685: 2 minutes
Beeline 3, 31, 32, 7: 2 minutes
Commuter Express 409, 549: 9 minutes
Glendale train station: 25 minutes
Every rider may qualify for our yearly gift card giveaways!
Benefits
Guaranteed Ride Home
Should an emergency arise, Guaranteed Ride Home provides a free ride home from work to those commuters who regularly vanpool, bike, walk, or take the transit. Please refer to the below Guaranteed Ride Home Policy to learn more about who is eligible and what qualifies for an emergency ride home.
For further questions or to submit your claim form, please email Bronwen Keiner at director@goglendale.org.
Commuter Rewards
Employees who are participating in monthly reimbursement or vanpool qualify on commuter rewards.
For more information or if you are interested in ridesharing, please contact the Glendale College Police Department at 818-240-1000 Ext. 5205 or at parking@glendale.edu.
Rideshare forms
Click here to download your rideshare incentives form.
Click here to download your alternate transportation incentives form.