Transit
Did you know…
Riding the bus or train is a great stress-reliever. When you don't have to watch the road, you can dive into a novel, catch up on email, or just sit back and relax. Not to mention the peace of mind that comes with a cheaper commute.
Plan your trip
Use the following trip planner to explore your transit options. This online system incorporates all local transit providers.
Free Mobility Apps
Visit our Mobility Apps page for list of FREE transit apps that help you with your commute.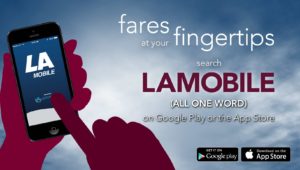 Where to Buy Your TAP Card
You can get your reusable TAP card four ways:
At Metro Customer Centers and over 400 TAP vendors around town including Ace Cash Express, Continental Currency Services, Inc., and selected Ralphs California check cashing stores. To find a location near you, please check TAP's Vendor Locator.
Online at taptogo.net. Your card will be mailed to you.
From TAP vending machines at all Metro Rail and Metro Orange Line stations.
Onboard Metro buses, Day Passes available for purchase with new TAP card for $8.
Transit Providers
Metro
Metro is Los Angeles County's regional transit provider. A number of Metro buses run through Glendale, connecting the City to all corners of the LA Metro Area. Local cash fare is $1.75, with discounts available for seniors, disabled, and Medicare-eligible riders. Riders may pay cash or load it onto a Tap Card. Many employers offer pre-tax or discounted Tap Cards as an employee benefit.
Before you ride for the first time, review Metro's step-by-step Getting Started guide.
For up-to-the minute information on your favorite route, use Metro's official app, Transit.
Glendale Beeline
The Glendale Beeline is operated by the City, and offers 12 routes throughout Glendale, and connects to neighboring destinations such as La Crescenta, the Jet Propulsion Laboratory (JPL) and the Burbank Regional Intermodal Transportation Center.
Cash fare for regular routes is $1.00, with discounts available to seniors and students in some cases.
Metrolink
Metrolink is the region's commuter rail system, connecting travelers in Orange, LA, Ventura, and San Bernardino and Riverside Counties. Metrolink's Antelope Valley and Ventura County Lines run through Glendale Station (400 W. Cerritos Ave.). Metrolink fares vary based on the distance traveled and can be purchased at vending machines located at stations.
LADOT Commuter Express
LADOT operates Commuter Express buses, with a limited number of stops to get people from Point A to Point B as fast as possible.
The Commuter Express Route 549 stops in Glendale near the Brand/Central Exit of the 134, and serves Encino to Pasadena. Cash fare varies from $1.50 to $3 one-way, depending on the distance of your trip.
Neighboring Local Providers
Burbank Bus
BurbankBus offers four local routes that provide easy access to employment hubs and convenient connections to local amenities and regional transportation services. The Media District, Bob Hope Airport, the North Hollywood (NoHo) Red Line and Orange Line, and the Downtown Burbank Metrolink Station are all within easy travel. BurbankBus is an affordable, eco-friendly ride. Adult one-way fare is one dollar, and our entire fleet operates on clean-burning natural gas.
Pasadena Transit
Pasadena Transit now operates seven routes to get you to the Old Town Pasadena, JPL, Caltech, Art Center College of Design, and Western Asset Plaza. Adult one-way fare is $0.75 cents with discounts for seniors, disabled, and youth.
Reminder for commuters coming from Pasadena
The Metro Express Route 501 offers service from North Hollywood to Pasadena every 15 minutes Monday-Friday and every 30 minutes on the weekends. The cost to ride the express line is $2.50.