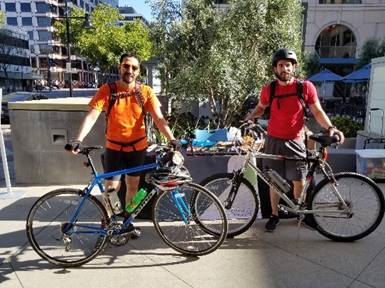 Go Glendale invites you celebrate Bike Month all of September. Traditionally held in May, Bike Month activities were put on hold due to the pandemic. While we can't gather together, we can still celebrate safely and physically distanced.
With a move from many employers to remote work and the need to maintain physical distancing our traditional Bike to Work Day activities aren't possible. So, we encourage you to join us in celebrating Bike to Wherever Days! Get on a bike and celebrate on your own or with your family. The official Bike to Wherever Day will be taking place on September 22nd to coincide with World Car Free Day.
All month long, tag us on Facebook @GoGlendale or Twitter @GoGlendaleTMA with photo or video of yourself enjoying Bike Month, by traveling in any sustainable way, with the hashtag #GoGlendaleBTWD for a chance to win one of 6 $50 Amazon gift cards. Ride a bike, walk, take public transit, or carpool to work or wherever for a chance to win.
Need inspiration for your Bike Month celebrating?
Try out a family friendly route from LACBC or join a Metro BEST class or self-guided tour. Click here for more Bike Month tips from LA Metro. Be sure to take a picture and tag us!
Due to the ongoing wildfires and poor air quality conditions we recommend trying out a virtual event and limiting your time outdoors. Get updates on air quality from the SCAQMD: http://www.aqmd.gov/aqimap